Christmas T-Shirts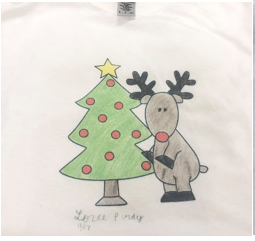 ---
November 30, 2020
Dear Parents:
We are pleased to offer your child the opportunity to create and wear a Christmas/holiday t-shirt. The shirt may be worn to school throughout the month of December. Your child will create a picture or even write a letter to Santa, and it will be transferred to the t-shirt.
The children may work on these at home, or they will have time to do so at school. They may use regular 8 1/2" x 11" paper, or our virtual students may create a design and parents may drop it off along with the order form and payment at the school. Markers work best, but crayons may be used if darkly colored. Multiple shirts may be purchased. You can even purchase one for Grandma! You are welcome to send in other family members' artwork, too. Each child's shirt will be white and cost $15. Each adult shirt is $18.
The first order will be collected December 2nd and the t-shirt will be ready by December the 7th. Be sure to have your child sign his or her name at the bottom of the picture.
Sincerely,
Ms. Christi Norris